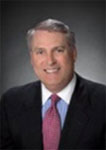 John R. Hamilton is Managing Director, Ann Arbor for the Dressler Search Group and its predecessor company, Coleman Search Consulting, and has extensive executive search leadership experience. John served as Managing Director/Market Director of TiER1 Performance Solutions in Pittsburgh, Pennsylvania before joining Coleman.
For several years prior to his general management role with TiER1 Performance Solutions, and throughout both his corporate Human Resource executive and executive search career, John has served multiple clients conducting C-level and other senior level executive search engagements in all major functional areas including Sales and Marketing, Operations, Legal, Logistics and Distribution, Manufacturing, Finance, Business Development, Information Technology and Human Resources. Industries served include Life Science, Industrial Products, Medical Equipment, Healthcare Services, Hospitality, Banking and Professional Services.
In addition to his executive search experience, John has over 30 years of Human Resource executive management experience in publicly traded and privately held corporations, entrepreneurial start-up companies and private equity backed portfolio companies including Fisher Scientific, Hawk Medical Supply, AMSCO International, Hyatt Hotels Corporation and American Hospital Supply Corporation.
John's general management, retained executive search and executive Human Resource Management background and professional services consulting expertise includes significant experience in senior level Staffing and Talent Management initiatives, Executive and Leadership Development, Succession Planning, Strategic Change and Organization Effectiveness.
John is a past member of the Board of Directors of UPMC St. Margaret Hospital in Pittsburgh and a former President of the UPMC St. Margaret Foundation. He served as a Captain in the Unites States Army-Europe and has his MBA from the University of Utah, a BS in Business Administration from Michigan State University and is a graduate of the Executive Human Resource Management program at the University of Michigan in Ann Arbor, Michigan.
John and his wife, Christine, reside in Ann Arbor, Michigan and have two daughters.