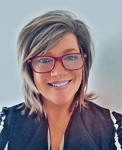 Since 1994, Kelly E. Persichetti has established a significant career path within the retained executive search industry, supporting a wide range of clients—from start-up companies to Fortune 500 organizations.
Her strategic and research abilities combined with her prior broad direct experience in the areas of full-scale retained recruitment, contingent recruitment, corporate staffing, human resources, manufacturing, marketing, sales, small business start-up and social media, merge to create value-add marketplace research.
With highly targeted research strategies and retention focused sourcing practices, Persichetti helps clients align their corporate brand and search strategy to specific needs.  Persichetti develops, in essence, an individualized talent mapping strategy for each client, building and cultivating industry pipelined networks. Her client-centric research techniques are highly effective in identifying, qualifying, and engaging passive talent.
An entrepreneur herself, Persichetti established The Persichetti Group in 1999 supporting a broad domestic corporate client base with high success rates. She is a lifetime native of Ohio with John, her husband of 30+ years, and daughter Shannon.
As a cancer survivor, she continues to provide direct patient advocacy and support to those on the journey, as well as, other philanthropic efforts close to the heart.
Kelly offers HR and Recruiting value-add insights and published articles on LinkedIn, at https://www.linkedin.com/in/kelly-e-persichetti/. She can also be followed on FaceBook at https://www.facebook.com/The-Persichetti-Group-596039730562440/ or Twitter at https://twitter.com/kpersichetti